"Being a mother is such a beautiful part of my life, but I must admit, it comes with a lot of sacrifices, challenges, [and] dramatically changes our body's physical appearance," entrepreneur and social media personality Cat Arambulo-Antonio tells Preview.
After giving birth and breastfeeding three kids, the 41-year-old mom worked tirelessly to get into shape. She adopted several forms of exercise, did non-invasive treatments, and even changed her diet entirely. And while she did get good results, she realized that the all-natural and non-surgical approach isn't getting her where she wants to be. That's why eventually, Cat finally decided to take what she deems the "extreme yet effective" route—plastic surgery.
In July, Cat signed herself up for a series of cosmetic surgeries to reach her fitness goals. A tummy tuck was her top priority, but she also underwent liposuction, belly button correction, and several body sculpting procedures. She calls the process her "mommy makeover," and proudly showed the impressive results on social media.
ADVERTISEMENT - CONTINUE READING BELOW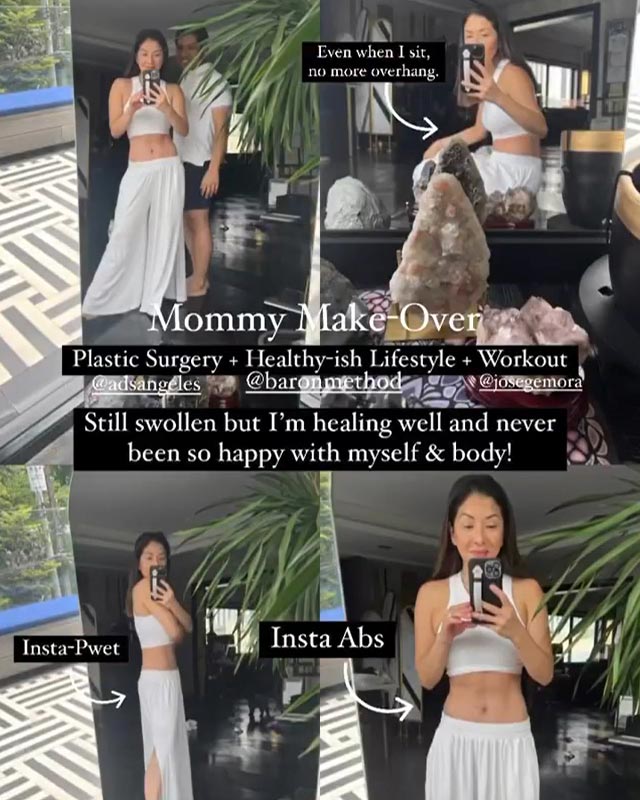 Ahead, Cat Arambulo-Antonio talks about motherhood, "bouncing back", and shares all the details of her body transformation:
On why she decided to get plastic surgery
"For the past two decades, I've felt like a temporary tenant in my own body," Cat confesses. "I worked hard to look my best and learned to live with whatever shape I was in during and after all of my pregnancies. Now that [my husband and I] done with the baby making and have decided to focus on raising our three kids, I feel I have the license and fully own my body again."
CONTINUE READING BELOW
Recommended Videos
That said, Cat clarifies that her post-pregnancy body was never an insecurity. She explains, "[My decision to get surgery was] a combination of having very specific goals, high standards for myself that is coupled with frustration of not being able achieve it.
"I decided to do cosmetic surgery when I realized that my diet, eating clean, intense exercise routine and all the non-invasive body treatments can only do so much. I knew that no matter how hard I worked, I will never be able to attain my goals 'naturally.'"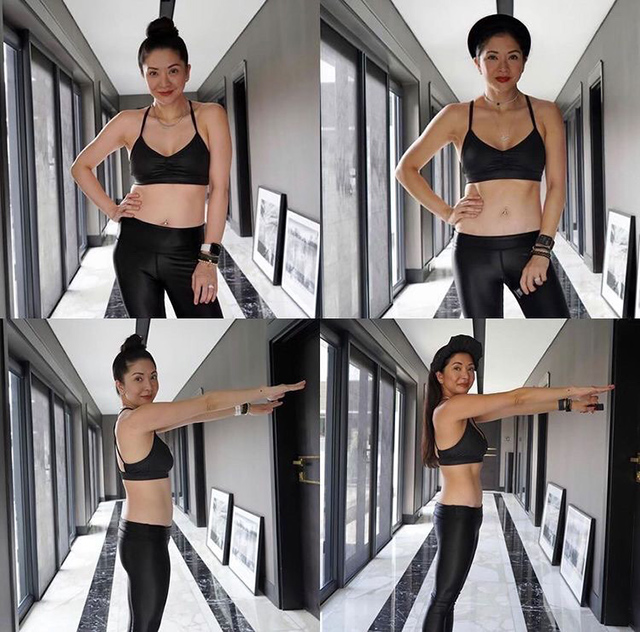 ADVERTISEMENT - CONTINUE READING BELOW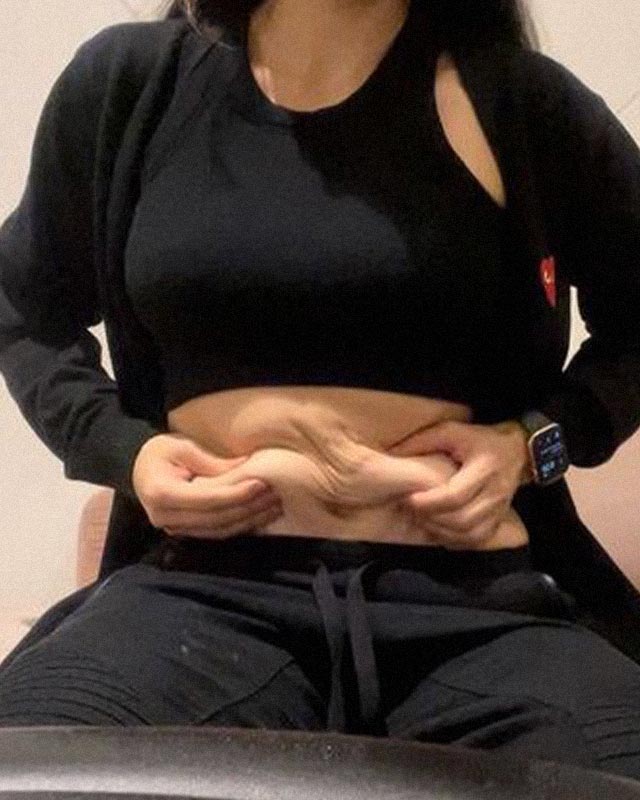 Cat's goal for her "mommy makeover"
Before the pandemic, it was Cat's goal to be in her best shape yet. She had already planned to get a tummy tuck and work towards having visible abs before she turned 40. And then the pandemic happened. "The start of the pandemic was chaotic and extremely stressful. I let go of myself and fell hard," she shared.
ADVERTISEMENT - CONTINUE READING BELOW
But eventually, Cat went back on track, starting yoga teacher training ("for my mental health") and doing a variety of exercises like Lagree, PlanaFORMA, spin classes, and weight training. She even gave he diet a makeover by adopting the Baron Method—"[I wanted] to learn more about the healing power of food. Plus I saw that my highschool friend Aliza Apostol-Goco (@mustlovemom) was doing BM. She's my inspo and mom body goals!"
Speaking of goals, she always had a clear one for this "makeover": "The goal is to always feel good about myself by being confident and happy with my body—with or without clothes, sitting down or standing up. Truth: 'aging gracefully' and 'bouncing back' takes a lot of work!"
ADVERTISEMENT - CONTINUE READING BELOW
On the pressure to "bounce back" after giving birth and being open about cosmetic surgery online
There's no denying that the pressure to go back to your "pre-baby body" is strong for all new mothers. While many do succeed, it's not as simple as others may think. Cat, for one, said that she had tried every way she knew to bring hers back, but to no avail.
"I talk about my experiences because I know what it's like to see people 'bounce back' after their pregnancy by diet, exercise and note…good genes," she says. "But it doesn't work for everyone. I've tried. Thrice. And the older you get, the more babies you have, the harder it is to achieve that pre-pregnancy body. "
"Please don't get me wrong. I think that a woman's pre- and post-pregnancy is equally beautiful. But I'm sure there are still many women out there who are struggling with their bodies and feel the pressure from others to get back into shape. Just know that I've been there too, got stuck, and decided to take a more extreme yet effective approach."
ADVERTISEMENT - CONTINUE READING BELOW
By being open about her journey on social media, Cat also hopes to spark some hope in other women in a similar situation. "Plastic surgery may not be for everyone but at least you know that it's a possible option. And I'd be more than happy to expound on my experience and the share the process that I've taken, too," she explains.
"Sharing my journey about cosmetic enhancements speak volumes about my truth, online and offline. Often, people just share the before and after photo, which is why try to bridge that gap by adding a more details, photos and share the BTS experiences. It gives people a clearer understanding of us the process and helps manage peoples expectations."
How she prepared for surgery
Cat's first stop after getting fully vaccinated wasn't the mall or a fancy restaurant. Two weeks after her second dose and antibody test, she headed straight to a long consultation with her plastic surgeon (Dr. Arnold Angeles) and anesthesiologist at The Aivee Clinic. "I did all the blood work, tests, and preps that showed that I was healthy and physically fit for surgery. As soon as I got clearance, I was scheduled for surgery the next morning," she reveals.
ADVERTISEMENT - CONTINUE READING BELOW
As you can probably tell, there was no hesitation on her part at all, only excitement—"but I was praying for a nice belly button. LOL."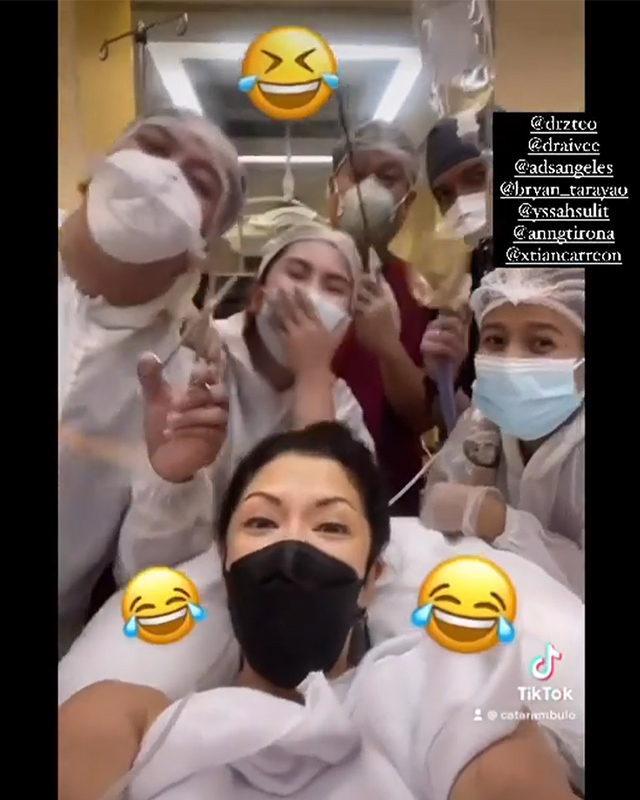 The exact cosmetic procedures Cat did for her makeover
In July, Cat was wheeled into the surgery room for three procedures: A tummy tuck, muscle repair, and belly button correction. The surgery took nine hours to complete. Here's a breakdown of what each one did, straight from Cat herself:
ADVERTISEMENT - CONTINUE READING BELOW
Tummy Tuck: "My abs will never come out 'cause I have a lot of loose skin. They're most visible when I'm sitting down. [This will] remove the excess skin, reduce the stretch marks, and remove skin overhang [caused by pregnancy]."
Muscle Repair: "This tightened my muscles because I had 'diastasis recti' means your belly sticks out because the space between your left and right belly muscles has widened. You might call it a 'pooch.'
"Body & muscles expands to accommodate another human, and some muscles don't snap back. This is needed to achieve a smaller waistline and to be able to build ab muscle, too."
Belly Button Correction: "The old one was hooded and sagging. Since they pulled all the skin down, they need to make a new belly button. Note: I was very particular about this because there are a lot of weird looking new ones."
After healing from this surgery, Cat flew to the US with her family. By October 2021, she was back on the operating table for a new round of procedures that focused on sculpting her body. Aside from having her tummy tuck revised since she wanted a lower scar, and did the following treatments as well:
ADVERTISEMENT - CONTINUE READING BELOW
Vaser Liposuction: "[Addressed] abdomen fat and love handles near the bra line. The fat needed to be removed because I wanted maximum results."
J-Plasma: "The best!!! J-Plasma is a revolutionary treatment that uses helium gas and radiofrequency energy. It stimulates collagen production, immediately tightening the skin. Think of this like a ziplock…it seals the pockets tight so no more loose skin."
Fat Grafting & Transfer to Buttock: "This was an 'only if' option. I instructed the team to only include this ONLY IF they were able to get enough fat from areas they lipo to have significantly visible results."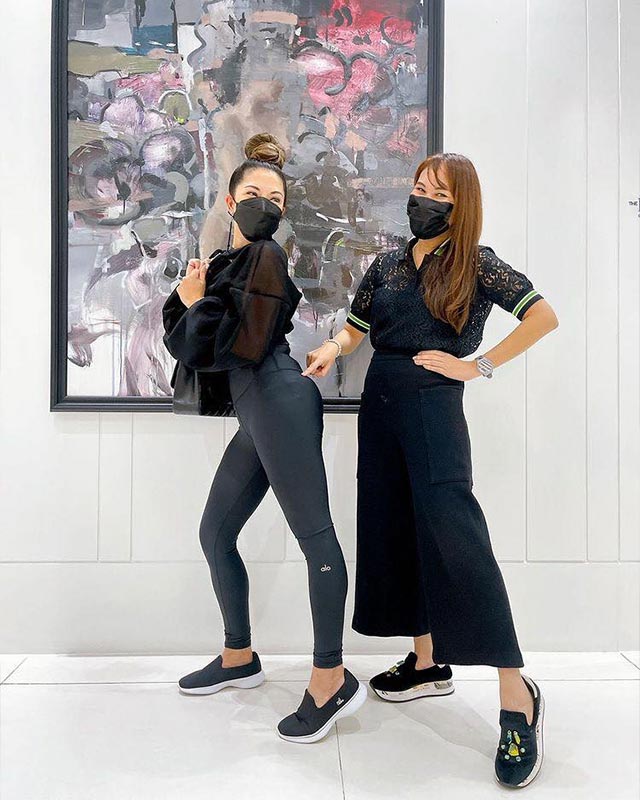 ADVERTISEMENT - CONTINUE READING BELOW
On post-surgery recovery
Although she was looking forward to the surgery, Cat admits that the time right after the procedures were less than exciting. "The most challenging part is seeing yourself right after the surgery bruised and with the drains. I'm not going to lie but I did cry and for a few minutes I actually felt bad for myself and questioned my own decisions," she shares.
"But then I got over it and remembered that it was all part of the process and healing takes time. The most immediate concern is that that you need to wear for three to five days after the surgery. It's not painful. It's just a hassle to have on and know that you have two tubes stick out of your body."
Seven weeks after her operation, Cat says that her scar is still visible but already improving. She also maintains the results by wearing a binder and slowly starting to add more weight and stretching exercises to her routine. Overall, Cat says she's "loving her new body," so she's definitely one step closer to her ultimate goal.
ADVERTISEMENT - CONTINUE READING BELOW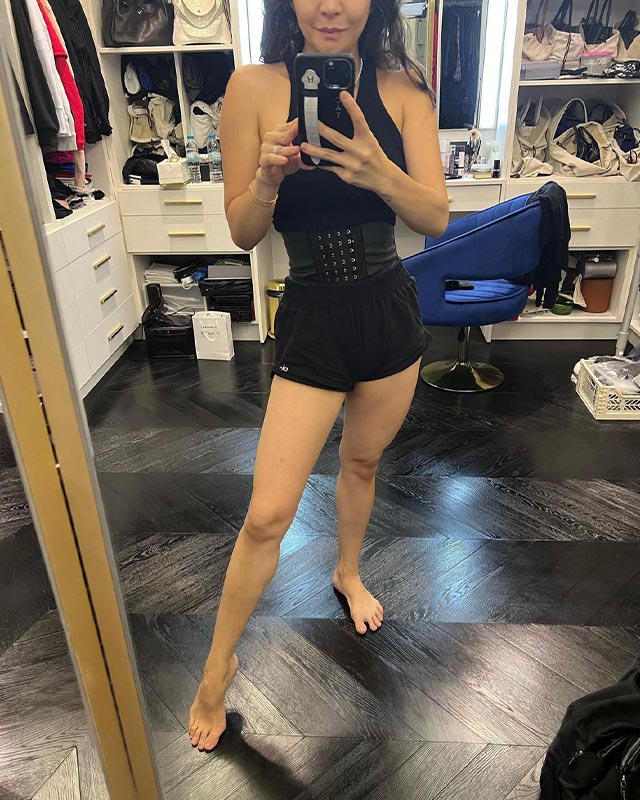 Why she chose to pay for the surgeries herself
"As my husband Carlo says, 'All benefit to him at no cost makes me his greatest asset,'" Cat quips. "I laugh about it but I must admit that it feels good to know that I'm seen as an asset & treated as a partner not a dependent.
ADVERTISEMENT - CONTINUE READING BELOW
"My husband would have gladly covered the expenses if I asked him to. But, for me, it's a personal choice. It's my body. And I find it very fulfilling to pay for the things that I want and I love being able to invest in myself. It's empowering. learned that from my lola, mom, and it's something that I want to instill in my kids, too."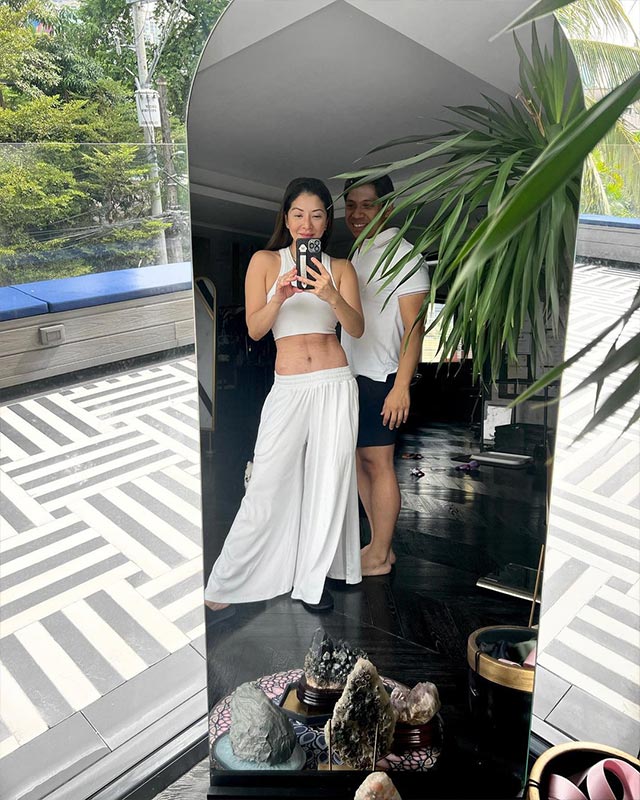 ADVERTISEMENT - CONTINUE READING BELOW
On motherhood, self-care, and plastic surgery being an "extreme alternative"
When asked what else she hopes other moms pick up from her journey, Cat couldn't stress self-care enough. She says, "Sometimes we forget take of ourselves because we're to busy taking care of other people. Never feel guilty for wanting to improve or spend on yourself. At the end of the day, you can't give what you do have."
And by loving and improving yourself, she doesn't necessarily mean going under the knife. "Plastic surgery is not for everyone and is an extreme alternative option. My advice it to do it for the right reasons—it must be for yourself," she stresses.
ADVERTISEMENT - CONTINUE READING BELOW
She does, however, have advice for her fellow moms who are planning for their own mommy makeover: "Talk to your doctors to know all the details, and make sure your visions are aligned. What may see beautiful in your eyes may be different for another. So before you go under the knife, make sure you're on the right track and manage [your expectations with your doctors]."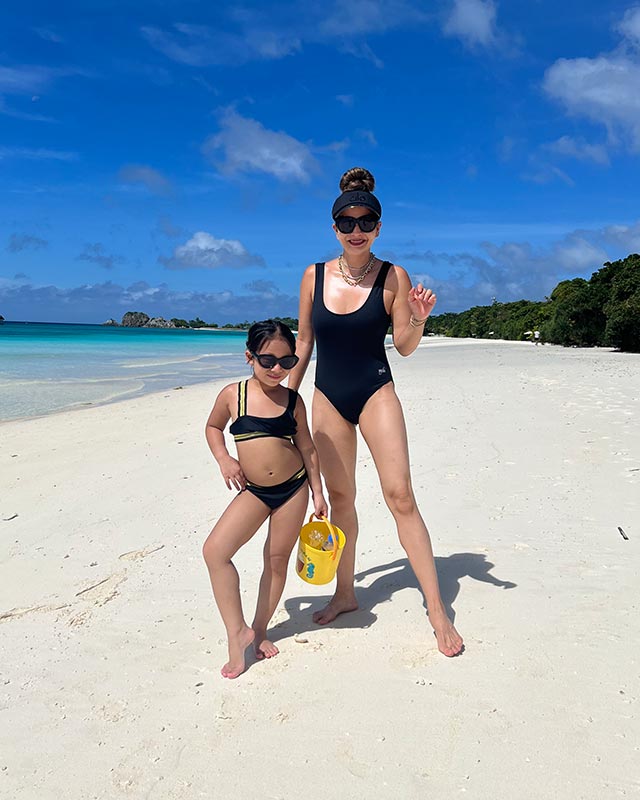 ADVERTISEMENT - CONTINUE READING BELOW
*Answers have been edited for clarity.
Preview is now on Quento! Click here to download the app for iOS and Android and enjoy more articles and videos from Preview and your favorite websites!
Related Stories from Preview.ph
Hey, Preview readers! Follow us on Facebook, Instagram, YouTube, Tiktok, and Twitter to stay up to speed on all things trendy and creative. We'll curate the most stylish feed for you!