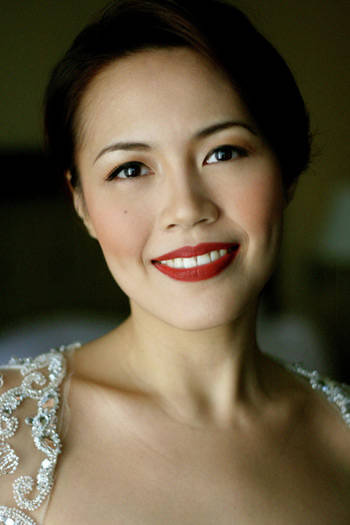 ADVERTISEMENT - CONTINUE READING BELOW
CONTINUE READING BELOW
Recommended Videos
Number of years in the industry: 8
Signature look: I've always loved beautiful, clean makeup without having to use a lot of product. I guess my signature look would be the natural "just beautiful" look. I love the look of healthy glowing skin, big bright eyes, natural looking brows, and beautiful natural flush on the cheeks.
Best advice for brides: Try not to copy makeup looks you see in magazines. Although these colors may look great on the models or celebrities, they might not look flattering for your skin tone and hair color. Trust your makeup artist to use colors that would best suit your skin tone, type, and shade.
ADVERTISEMENT - CONTINUE READING BELOW
If you feel conscious about the shape of your face, try not to ask your makeup artist to completely change the shape of your face by contouring heavily. Yes, this may look great on photos but in person when you will be greeting your guests, it may look funny. Instead, ask your artist to emphasize your other facial features that you love most to draw the attention away from your problem areas.
Do's and don'ts:
1. If you want to get a facial pricking or facial cleaning, do it at least a month before the wedding to give your skin plenty of time to heal properly no matter what your dermatologist says—dont risk it.
2. Minimize sun exposure, avoid going to the beach and catching plenty of rays. Burned skin is very unflattering in photos. If your skin is burned, it's usually darker than your chest and neck so you will have different shades of skin on your wedding day. Plus, although freckles look youthful, sun spots don't. So months before (and even way after your wedding), always use sunblock on your face at least SPF 30.
ADVERTISEMENT - CONTINUE READING BELOW
3. Don't get lash extensions! These extensions look pretty but are very "fragile". If makeup gets to the lashes, you won't be able to clean them thoroughly so they will look gray and dirty or even look white in photos.
4. Do have your face threaded. This may be painful, but it's worth it! Tiny hairs cast shadows in photos that may look like dirt, and makeup does not stick on hair making your skin look flaky in photos and in person (specially the lip area!). Your face may get red after threading, so do this at least 5 days before your wedding. If your skin does redden, put ice in a wash cloth and press over your face to subside the redness. Apply petroleum jelly to soothe skin.
5. For kissable lips on your wedding day, apply a generous amount of petroleum jelly on your lips every night then lightly scrub with a wet wash cloth weeks before your wedding day. This will scrub away dead skin leaving your skin smooth and plump.
ADVERTISEMENT - CONTINUE READING BELOW
Click here to view more of Sabs' bridal looks >>
To book an appointment with Sabs Hernandez, see the Hair and Makeup Directory.
Click on the next page to read about Ara Fernando.