When it comes to skin, I'd like to think that I'm luckier than most. I'm the type who doesn't break out consistently unless I'm severely fatigued or lacking sleep. I was that girl who didn't have to visit the dermatologist regularly and used to go to bed without removing every trace of makeup (never again, though!). My twenties were a testament to my lackluster (read: lazy) skincare routine and I would only put on sunblock whenever I'd hit the beach. And to make matters worse, I didn't even bother with eye cream until I was 24 (shocking, I know!).
While some people in their 30s already worry about crow's feet, prominent laugh lines, wrinkles, or sagging jowls, my main concern was my prominent sunspots—not just a smattering of cute freckles but penny-sized ones that sat high near my temples. While they may not seem as serious, this type of hyperpigmentation is considered to be one of the major signs of aging.
ADVERTISEMENT - CONTINUE READING BELOW
Condition Before Treatment
I've heard it from almost every professional skincare consultation: "You have great skin! Given your Chinese genes, you don't seem to have too much to be concerned about; the only issue you have boils down to hyper pigmentation."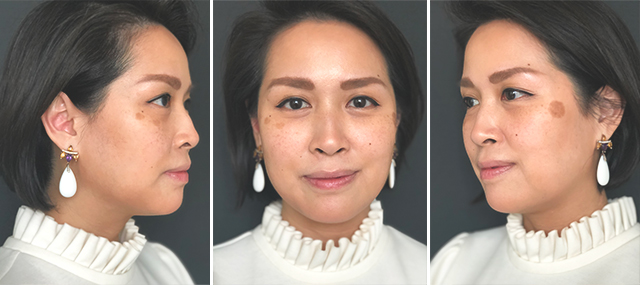 ADVERTISEMENT - CONTINUE READING BELOW
Recommended Videos
I tried to be extra vigilant with retinol and hydroquinone use but nothing really happened. I even resorted to Revlite to lighten them and while it did improve a bit, bottom line, you could still see deep brown circles on my skin. I convinced myself that it would not be too bad to just live out my life with my sunspots. After all, they didn't seem like a major issue anyway.
It wasn't until two years later when a chance encounter with dermatologist Dr. Anna Palabyab-Rufino finally sealed the deal and had me convinced to take that step and have my sunspots removed once and for all
What: Sunspot Removal Treatment Using the Alma Q Laser or a Q-switched Nd:YAG laser
ADVERTISEMENT - CONTINUE READING BELOW
Price starts at P3000/depending on the area and level of pigmentation, Beautique MD, 8F MDI Corporate Center, 10th Ave. cor. 39th St., Bonifacio Global City
My initial consultation with Dr. Gaile Robredo-Vitas, one of Anna's Beautique MD partners, together with Dr. Karla Luchangco, had her explaining that she would be using the Alma Q Laser on me. It is typically used to remove tattoos and treat pigmentation such as freckles and sunspots. She said that they would target it directly at the area and burn the top layer to make way for new skin to come out, which would significantly lighten if not completely remove the sunspot.
She warned me about the downtime that would occur after the procedure—mainly that the area that was treated would become a scab and remain for about a week until it completely dried up. Once that happens, it would just fall off naturally on its own. If the pigment is deeper than assessed, they might have to do another session to completely remove the spot.
ADVERTISEMENT - CONTINUE READING BELOW
What the Treatment Was Like
After my initial consultation, Dr. Gaile and I discussed a schedule for the treatment given the downtime. I had two very visible spots on my face that she wanted to remove and we decided to remove the biggest one on the right side of my face first. In the event that we would need a second pass after the initial session, she could do it simultaneously with the smaller spots on the left side of my face. She suggested to wait about eight weeks before doing a succeeding treatment in order for my skin to fully recover. "Doing laser sessions too close to each other doesn't maximize the benefits from one treatment and may disrupt healing and cause side effects such as post inflammatory hypo- or hyperpigmentation," she explained.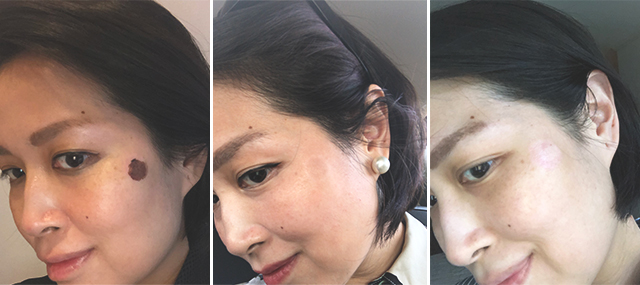 ADVERTISEMENT - CONTINUE READING BELOW
As I sat on the chair clammy hands and all, her assistants proceeded to apply the topical anesthetic, which needed to settle in for about 30 to 45 minutes. They covered the area with cling wrap for faster absorption and waited until it was time for Dr. Gaile to administer the laser. With protective shields on my eyes, she began. All I could hear were zaps that sounded and felt like a really strong rubber band slowly hitting my skin. I won't deny the absence of minor discomfort, albeit totally manageable. After about eight zaps, we were done. I was surprised at how fast it took—probably about 20 or 30 seconds, give or take.
They gave me a ball of ice to put on the area, which would help in avoiding post-inflammatory hyperpigmentation that could arise from trauma caused by the laser. After icing my spot for a good 30 to 45 minutes, they finished it off by applying a thin layer of healing cream with SPF, to properly shield the spot from the sun as well as other harmful elements. I was instructed to put the cream every two to three hours, especially when the sun is at its peak—from 9 a.m. to 5 p.m.—every day for about one to two weeks. After the anaesthesia wore off, I felt a little sting in the area of my cheek that was treated that lasted for the rest of the day until the next, but it wasn't painful. The only thing that vanity caused me to worry about was sporting a dark spot on my face for a little over a week.
ADVERTISEMENT - CONTINUE READING BELOW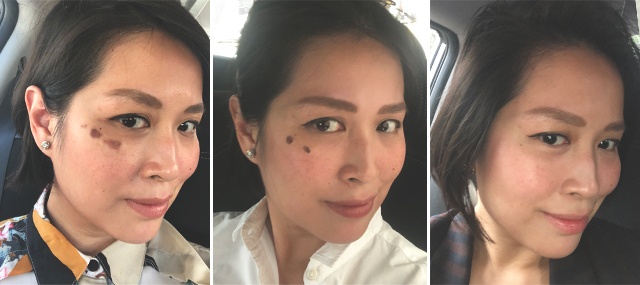 The day after the procedure, I noticed that the spot was darker; but I was set on completing my penance in order to yield the best results. As expected, the scab dried out, or rather peeled off by itself; after seven days, what was revealed beneath was a sensitive pink spot that eventually blended in with my regular skin tone after another five days after.
ADVERTISEMENT - CONTINUE READING BELOW
I did go back for a second pass to completely erase any visible traces of the spot, but as Dr. Gaile took a look, she and I agreed that we didn't need to do another round on the first spot and instead just treated the smaller and lighter spots on the other side of my face. After going through the week and a half recovery period, any traces of the prominent sunspots I once had were gone. (See the photos if you don't believe me!)
Conclusion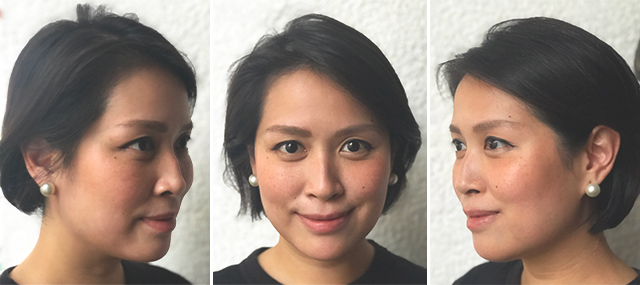 ADVERTISEMENT - CONTINUE READING BELOW
I was extremely happy with the outcome of the procedure and the best part is that everyone including myself noticed the significant difference! I feel that without the sunspots on my face, I look much younger, making my skin look clearer than ever. Even if I had to walk around with visibly dark spots on my face for over a week, it was a small price to pay for all the years of unprotected sun exposure. I'd definitely recommend this procedure for gals who have visible sunspots and those who would like better-looking skin. It may not seem necessary at first, but the results were more amazing than I expected. Now, I no longer have to make an extra effort to cover those sunspots up (not that I ever did), and actually find myself wearing less makeup unless it's a special occasion.
My only regret? I wish I could have done it way sooner, hands down.
ADVERTISEMENT - CONTINUE READING BELOW
Related Stories from Preview.ph
Hey, Preview readers! Follow us on Facebook, Instagram, YouTube, Tiktok, and Twitter to stay up to speed on all things trendy and creative. We'll curate the most stylish feed for you!