I was lucky in my 20s and 30s. I never really struggled with a weight problem—even after giving birth to both my sons. When I hit my 40s, though, boy, did things change. I suddenly noticed pockets of fat creeping up here and there, and in places I never regarded as "problem areas," like my arms! I tried several diets like Master Cleanse á la Beyoncé, and my own version of the Atkins Diet, but the weight would only stay off for a few weeks before slowly coming back. I wanted to finally address the problem, and I knew that a good ol' diet combined with exercise was the only way to finally get smaller, more toned arms. The diet, I could do—but exercise was always something I struggled with.
The first time I heard about Emsculpt was around two months ago. During that time, The Aivee Clinic had just launched Emsculpt specifically for the tummy area. I saw all the celebs that frequent The A Institute trying it out in their IG stories, and I, as a self-confessed "lazy, no-exercise" type of girl, naturally wanted to try it out.
ADVERTISEMENT - CONTINUE READING BELOW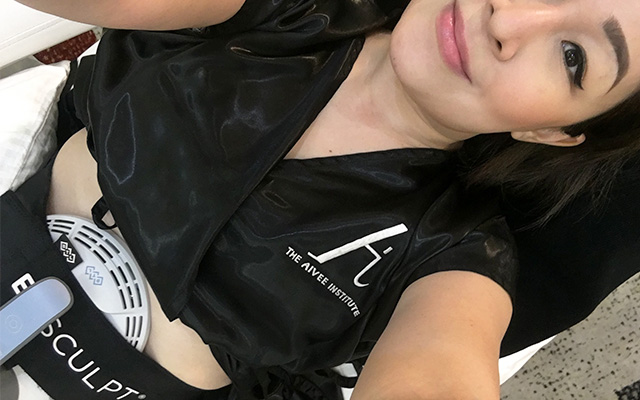 Trying out "Emsculpt Tummy"
The treatment was fairly simple: an applicator would be placed on my stomach, and would mimic the same effect crunches would do for my tummy: firm and tighten. It was a 30-minute procedure that promised to provide the equivalent of 20,000 sit-ups! I tried Emsculpt on my tummy once, but unfortunately didn't get to do follow-up sessions after that because my schedule just didn't allow it. It's integral to complete four sessions within a two-week time frame, and since this wasn't possible at the time, I decided to forego the last three sessions.
CONTINUE READING BELOW
Recommended Videos
After a few weeks, I was invited to the launch of a new Emsculpt procedure, and lo and behold—it targeted the arms! I quickly signed up since this was the area I really intended to work on, and so I cleared my schedule for the next two weeks.
What It Is: Emsculpt Arms
Emsculpt is an FDA-approved cutting-edge procedure that simultaneously burns fat and builds muscle for both men and women. The machine uses high-intensity focused electromagnetic technology that causes 20,000 supramaximal contractions on the arms, the equivalent of 20,000 push-ups, in just 20 minutes. While the muscles are undergoing supramaximal contractions, the muscle tissue is forced to adapt to the extreme conditions, and fat cells are destroyed in the process.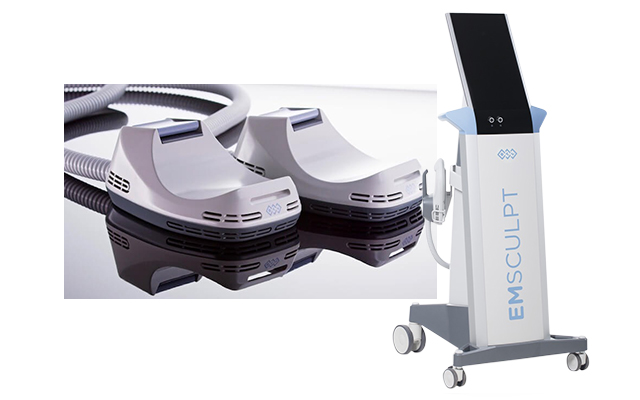 ADVERTISEMENT - CONTINUE READING BELOW
P18,000/session, available at The A Institute, 3F Burgos Park Building, Forbestown Road, BGC. Mobile no. 0917 728 3838
The photo above is the Emsculpt machine. There are currently only 10 pairs of these arm applicators for the Emsculpt machine in the world, and The A-Institute is proud to have a pair.
This revolutionary procedure claims to reduce 19% of fat and build 16% muscle per session, resulting in a firmer, toned body. The non-invasive treatment takes only four sessions to give you full and lasting effects. Dr. Aivee Aguilar-Teo adds, "There are only 10 Emsculpt applicators in the world for the arms today, and we at The A-Institute are very proud to be able to offer this unique experience to our patients."
Condition Before Treatment
Before I signed up for the full package of Emsculpt Arms (those are four sessions in total), my arms weren't exactly huge but they were significantly bigger than they were when I was in my 20s and 30s. (I'm now 42). The most prominent part was the area by the triceps, which had a tendency to look bulky, especially when I pressed my arm against the side of my torso. I became particularly conscious about this area, and refrained from wearing sleeveless tops because I felt like my arms just weren't as svelte as before.
ADVERTISEMENT - CONTINUE READING BELOW
I tried to address the problem by dieting, and although I noticed some results, they didn't last long, and soon enough, I was back to square one. I knew that the diet had to be complemented with exercise, which I was hesitant to commit to since I've honestly never been the active type. I'm a lazy girl and I know it, and I was desperate to find something that would help me out.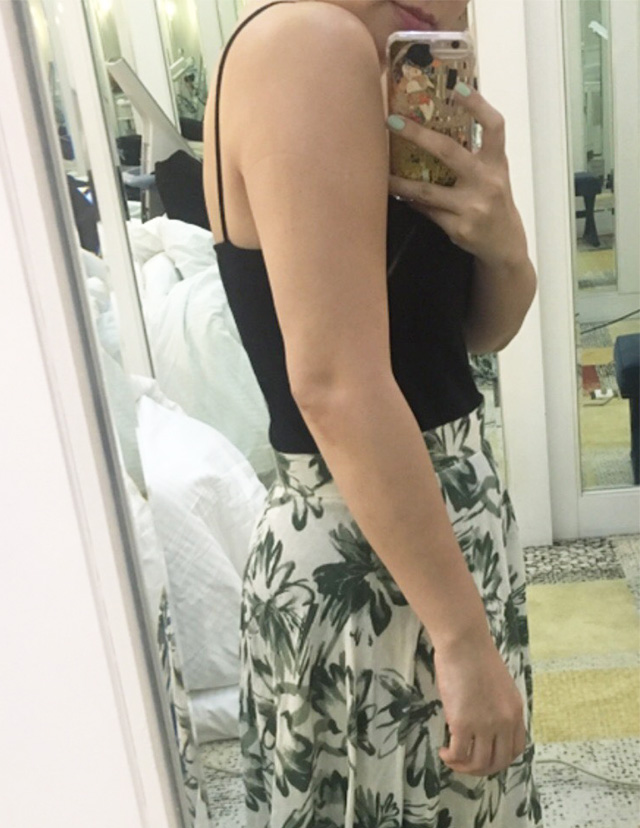 ADVERTISEMENT - CONTINUE READING BELOW
My arm before I started my first Emsculpt Arms session.
What the Treatment Was Like
My first Emsculpt Arms session went smoothly mostly because I had already tried Emsculpt on my tummy, so I knew more or less what to expect. First, I was asked to assume a slightly upright position on a bed. Then, the technician used two large pillows to prop up my arms so that they'd be at a more comfortable, elevated position. I was then asked to position my arms with my palms facing up. The applicators were then placed by my tricep area, and secured with Velcro straps.
The Emsculpt machine can start at a low level of 20, then you can gradually reach a maximum level of 100 depending on your tolerance. For some patients, it's fairly effortless for them to move from 20 to 100 but there's no real pressure to do so. The technician will talk you through the entire procedure, and will work with your level of comfort.
ADVERTISEMENT - CONTINUE READING BELOW
In my case, I found the procedure for the arms to be much more comfortable than the one for the tummy, so after about five to seven minutes, I was able to reach the maximum level of 100—the level you ideally want to reach so that you get the best results. The entire procedure lasted 20 minutes, and felt like I was working out my arms, with real muscle contractions and all, except I wasn't exerting the effort on my own—the machine was doing it for me. The end result however felt similar to an actual workout: My arms felt sore and firm, and I was physically exhausted.
ADVERTISEMENT - CONTINUE READING BELOW
The next three sessions were practically the same as the first although the last two sessions were an improvement in the sense that the 20 minutes flew by much more quickly because there was a TV in the room. Watching a program while undergoing a procedure like Emsculpt helps distract you, and makes the procedure seem like a breeze.
Conclusion
I found this non-invasive procedure to be painless, and I didn't experience any down time as I was able to resume regular activities afterwards. (I even went to the grocery right after.) After four sessions, my arms weren't significantly smaller, I had lost about 0.5cm in diameter, but they did feel and look much firmer—as if I had undergone a serious fitness regimen.
Another plus? Aside from being able to target my muscle tone, the machine promises to reduce 19% of fat in that area—"a first," in non-invasive slimming procedures, according to Dr. Z Teo.
ADVERTISEMENT - CONTINUE READING BELOW
Perhaps the only challenges of this procedure would be the cost, and the need to schedule time to go to the clinic four times in two weeks to have the procedure done.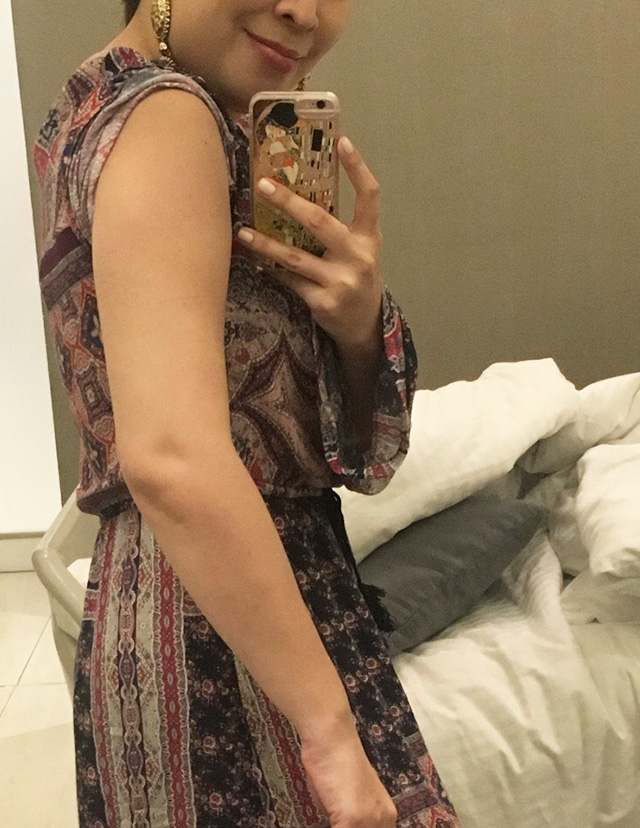 Showing the result after four Emsculpt Arms sessions. What the photo doesn't capture is how firm my arms feel.
ADVERTISEMENT - CONTINUE READING BELOW
The treatment itself is a breakthrough, especially for those who have struggled with small pockets of fat that are difficult to target with diet alone or regular exercise. Emsculpt is especially helpful for those who want to avoid any physical injury at the gym (older patients will benefit from this) since the procedure is machine-assisted, and is done in a uniform and controlled manner.
All in all, I was happy with the results. As someone who still cannot get herself to exercise or hit the gym, this was a procedure that helped open my eyes to the possibilities and benefits of exercise—whether machine-assisted or not. I know now that in order to achieve a loss of inches and maximum results, I will need to couple this procedure with a well-balanced diet, which most certainly can be done if I put my mind and heart to it (and stop munching on those damn sugar-laden doughnuts).
ADVERTISEMENT - CONTINUE READING BELOW
Related Stories from Preview.ph
Hey, Preview readers! Follow us on Facebook, Instagram, YouTube, Tiktok, and Twitter to stay up to speed on all things trendy and creative. We'll curate the most stylish feed for you!