Reggie Aquino, Associate Beauty Editor
What It Is
A method of applying pressure to certain reflex points in the foot that correspond to different body parts to relieve stress or break up deposits of uric acid. Reflexology can be used to treat a variety of ailments such as headaches, sinus problems, insomnia and obesity and can improve blood circulation and balance.
What Makes Reflex Zone Different
The new wellness center employs Rwo Shur Health Method of Reflexology which was developed by Swiss priest Fr. Josef Eugster while in Taiwan. The Reflex Zone had all its male technicians train in Malaysia for three weeks to learn the technique.
The Experience
Since this was my first time signing up for a reflexology session, I really did not know what to expect. Honestly, before I stepped in Reflex Zone, I thought that reflexology was just a fancier term for a foot rub—but as those of you who have tried the service before, it is definitely not your regular mild massage.
ADVERTISEMENT - CONTINUE READING BELOW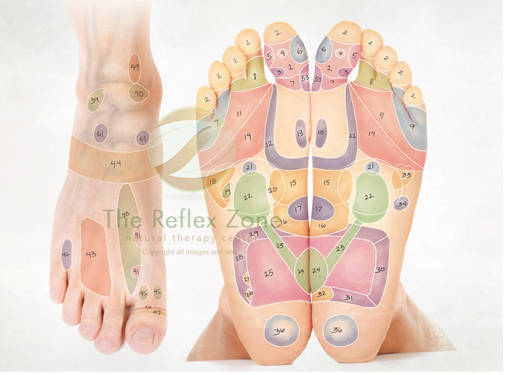 The Reflex Zone space is a very calming upon entry. The dark wooden walls and dim yellow lighting make for a quiet sanctuary and, even without instruction, it's the type of place that calls for speaking in hushed tones. Every treatment has two main steps—the foot soak and the actual reflexology. After being ushered to one of the inviting plush seats, the service began.
CONTINUE READING BELOW
Recommended Videos
The foot soak, was an interesting experience in itself. Called a Peppermint Crystal Mud Foot Soak, the step allows your feet to be disinfected in a wide tub for twenty minutes. First, my feet were dipped into the tub of water while a female technician poured a bag of tiny crystal pebbles into the liquid. After a few seconds, the crystal beads started to solidify into a gel, transforming the water into a strangely therapeutic bowl of cooling green slush. After the twenty minutes were up, the technician returned to pour yet another powder into the mixture which instantly turned it back into liquid. Trust me, this part was really fun to watch!
Next, a male technician came to start the reflexology. Laying on the side table was a really informative booklet that illustrated the different pressure points of the foot and the body parts they corresponded to which I browsed while my technician prepared. Since I didn't have any specific problem areas I wanted him to target, he started with the kneading.
ADVERTISEMENT - CONTINUE READING BELOW
Okay, I have to be honest, it was pretty painful. Not painful in a sharp, shriek-inducing way, but pain from the really strong pressure being put on the parts of your foot that aren't used to so much attention. To be fair, we were warned that for first timers, reflexology really can be quite uncomfortable—it's not real reflexology without the tough pressure. While I tried staying strong for a good ten minutes, I think my technician saw my slight wincing and was kind enough to ask if it was too much to which I gave in and said yes. He lightened his fingers slightly—giving me the full effect of reflexology, but the wimpy, low tolerance for pain version. What I found most interesting about the session was how attune the technician was to slight aches and pains I had been experiencing some days prior. Even minor discomfort like eye strain (some rubbing between the base of my 2nd and 3rd toes did the trick) and ear problems were detected by my technician through the bumps in my feet. As for the earlier pain, your feet sort of get used to the tension so the frequent pressing isn't so much uncomfortable. All in all, it was an interesting afternoon which left me energized and relaxed after the 80-minute treatment.
ADVERTISEMENT - CONTINUE READING BELOW
Recommendation
For those of you who like taking a more holistic approach to your aches and pains, reflexology is definitely worth checking out. I was told that you can come in as frequently as you like, with once a week being the most ideal to really reap the benefits that the practice can give you. Besides, how else can you treat everything from your Transverse Colon to your Trapezius Muscle in just 80 minutes?
The Reflex Zone Experience, P1,000 for 80 minutes, The Reflex Zone.
Hey, Preview readers! Follow us on Facebook, Instagram, YouTube, Tiktok, and Twitter to stay up to speed on all things trendy and creative. We'll curate the most stylish feed for you!