Isha Andaya, Managing Editor of StyleBible.ph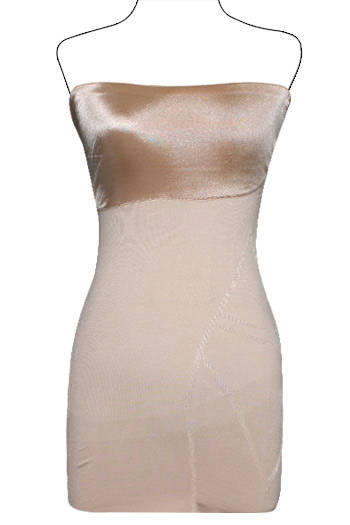 SPANX STRAPLESS FULL SLIP

Problem area
Once I hit my 30s, and I'm sure many of you who aren't diligent gym rats will commiserate, I realized how much harder it is to keep my weight under control. Body parts like my hips and thighs have become fuller, which is not the most ideal shape for the streamlined wardrobe I usually prefer.
ADVERTISEMENT - CONTINUE READING BELOW
I've recently started eating healthier and combined that with walking and TRX. However, it's going slowly along so the extra help a body shaper gives is a lifesaver when it comes to squeezing those curves into certain garments.

Product description

CONTINUE READING BELOW
Recommended Videos
I tried out Spanx's newest offering, the Slimmer & Shine strapless full slip. It has all the trademark contouring properties with a pretty strip of satin stretched across the bust area (a nice touch when you're wearing it with sheer garments). You feel the control factor as you're putting it on—it really holds you in—but it's quite comfortable once you're wearing it.
A bonus is that, unlike the bodysuit and panty-style products, you don't need to struggle when you go to the bathroom as it lifts and comes down like any skirt or dress would. I'm sure all you gals who've been using shapewear know what I'm talking about.

Effectivity
ADVERTISEMENT - CONTINUE READING BELOW
With Spanx, I always appreciate the "zoned compression" the products have. Tighter knits are placed in the tummy section, thighs, and hips to really pull them into shape. It's seamless and doesn't cling to clothes giving that smooth streamlined effect I like; no visible lines appearing from beneath. It's also not warm on the body so you'll be glad not to add to the heat of summer even with an extra layer.

Recommendation
This is a great product for anyone really, even if you don't seem to need the re-shaping. I find that it's a great slip to wear beneath those sheer dresses that are stylish for the summer as it gives you both the coverage and that great silhouette.
Strapless Full Slip, P6850, Spanx at Rustans.
Click on the next page to read Reggie's review on the Maidenform Flexees Ultimate Slimmer Waistnipper.
Click on the photo gallery to see 14 of our shapewear picks organized by problem area.
ADVERTISEMENT - CONTINUE READING BELOW