Reggie Aquino, Associate Beauty Editor
KERASTASE CHROMA RICHE
Hair condition
I was blessed (or cursed, whichever way you look at it) with extremely thick hair which has come at the cost of a constant battle with frizz. When I don't find the time to hydrate my strands with a good mask or take the extra time to condition, I am left with really dry hair which equals an everyday morning headache. About a month ago, I had my hair lightened a couple of shades with a spattering of highlights, which have left my already difficult hair, extra stubborn and parched.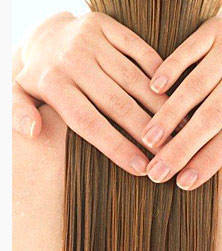 ADVERTISEMENT - CONTINUE READING BELOW
Treatment
Between a block of office buildings, it was nice to step into the warm interiors of Hair Philosophie one regular Wednesday morning. Exposed brick lines one wall while the roomy interiors allow for privacy for clients that aren't so keen on salon chatter. I instantly imagined it being a great haven for working girls to escape to for a slightly extended lunch break on days when some extra blush here and there doesn't seem to help.
Upon being ushered to one of their sleek leather salon chairs, the staff at Hair Philosophie recommended I get the Kerastase Chroma Riche treatment that would help my color stay vibrant for a longer period of time while infusing moisture back into my strands that was lost during the whole chemical process.
The treatment started with a light shampoo before the Chroma Riche cream was painted onto sections of my hair. To really seal in the product, my hair was covered with cling wrap and let to set for about 20 minutes. It was then washed off and my favorite part of any hair treatment—the blow dry—commenced.
ADVERTISEMENT - CONTINUE READING BELOW
All in all, I felt like a huge weight had been lifted from my hair. The problem I have with some hair treatments is how they often leave my hair too drastically straight. This service retained the bounce of my mane, just without the horizontal pouf.
Recommendations
I'd recommend this as a monthly treat for all your working girls who need a little pick-me-up. Women who frequently color their hair know how frustrating it is to have a once vibrant hue fade instantly when it isn't cared for properly and this treatment targets just that. Being a full service salon, I'd also recommend getting your nails done while you're at it, with Hair Philosophie also offering a 2-week chip resistant gel manicure.
Kerastase Chroma Riche Treatment, price starts at P1700, Hair Philosophie.
ADVERTISEMENT - CONTINUE READING BELOW