Isha Andaya, Style Bible Managing Editor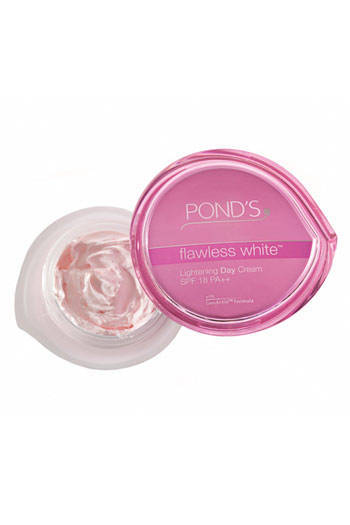 Problem area: Thanks to being born with oily skin, I'm prone to breakouts and end up with dark spots on my cheeks and chin. While I'm not interested in whitening, I do want an even complexion (don't we all?).
POND'S FLAWLESS WHITE LIGHTENING DAY CREAM SPF 18 PA++
ADVERTISEMENT - CONTINUE READING BELOW
What it is: Pond's recently launched this new range of Flawless White products last February 10 and the science behind it got me curious to try it. Their patented GenActiv Formula has ingredients that help fade dark spots, prevents dark pigment from forming on the skin surface at the source level, and has optic particles infused for instant gratification in terms of brightening. Vitamin E (protection from free radicals in the environment) and Allantoin (an anti-inflammatory plant extract; inflammation can lead to pigmentation) are also key ingredients of this cocktail.
It's lightly scented, as all Pond's products are, but I only notice the fragrance upon application, after which it dissipates. And since the 25g pot that I have isn't even halfway used, I'm pretty sure it will last me for a little over a month.
Application: I started using the Pond's lightening day cream about a week and a half ago. It's light to the touch and seemed to disappear into my skin when I applied it. As opposed to the moisturizer I was using prior to this, which left my skin feeling oily, I barely feel I have anything on with this product. This is particularly great because I can wear it under my makeup without feeling like I'm wearing too many layers on my face.
ADVERTISEMENT - CONTINUE READING BELOW
I used it everyday as part of my morning routine and I'd sometimes use the Pond's Flawless White Brightening Night Cream before going to bed, though I'm not as religious about my evening beauty routine.
Results: Honestly, I was surprised by how effective this product's been so far. The brand promises lighter skin in 7 days and by day 3 of my own trial, I noticed that the brown spots on my face had already begun to fade. Usually, it takes weeks for this to happen. And while the spots haven't completely disappeared just yet, I will say that my skin tone certainly looks more even, making me confident enough to go sans foundation on regular days.
I also appreciate that it has SPF 18 PA++ already incorporated into the formula. This lets me skip having to apply yet another layer of cream, so long as I'll be staying indoors for most of the day.
ADVERTISEMENT - CONTINUE READING BELOW
Recommendations: I highly recommend this for women who are battling dark spots and scars and looking to even out their skin tone. If you have oily skin and prefer a lighter texture for moisturizers, this is also a good choice for you as I noticed less oil build-up and shine during the day.
Flawless White Lightening Day Cream SPF 18, PA++, P159/25g, Pond's in all leading department stores.
Click the next page to read Nikki's review on the Shiseido UV Perfect Protector.