If you're thinking of tattooing words on your skin, consider having them written in Baybayin instead. As the ancient script of pre-colonial Filipinos, it could be a great way to subtly celebrate your heritage, but in a subtle way. Baybayin can also be considered an art form in itself, with each character being made up of soft, delicate strokes. It's such a beautiful part of our culture, so much so that despite its dwindling use, many choose to get the script tattooed.
Considering getting your own Baybayin tattoo? Read on for some pointers and design ideas!
What to do before getting a Baybayin tattoo
1. Know the difference between Baybayin and Alibata.
Before inking Baybayin on your skin, you must know that it is not Alibata, which it is commonly mistaken for. Alibata is merely an inaccurate term for the ancient script. Plus, unlike the English alphabet, Baybayin is an alphasyllabary writing system, which means each character represents both vowels and a consonant-vowel sequence instead of a single letter.
2. Consult an expert for an accurate translation.
Once you have familiarized yourself with Baybayin, it should be easy to translate your chosen word. But, you have to keep in mind that if your Baybayin translation turns out too long when comparing characters and syllables, do double-check because it might be inaccurate. It's best to first consult with a Baybayin expert before inking since there is no take two when it comes to tattoos. Take a look at the chart below to see some of the characters in the writing system:
10 Powerful Baybayin Tattoo Ideas You'll Love to Get Inked
1.
Malaya
This Baybayin tattoo translates to freedom in Filipino. It will remind you to step away from the cages you have been stuck in, to let go of your inhibitions, and to allow yourself to rest whenever you need it. It will look amazing somewhere easily accessible and visible like your forearm!
ADVERTISEMENT - CONTINUE READING BELOW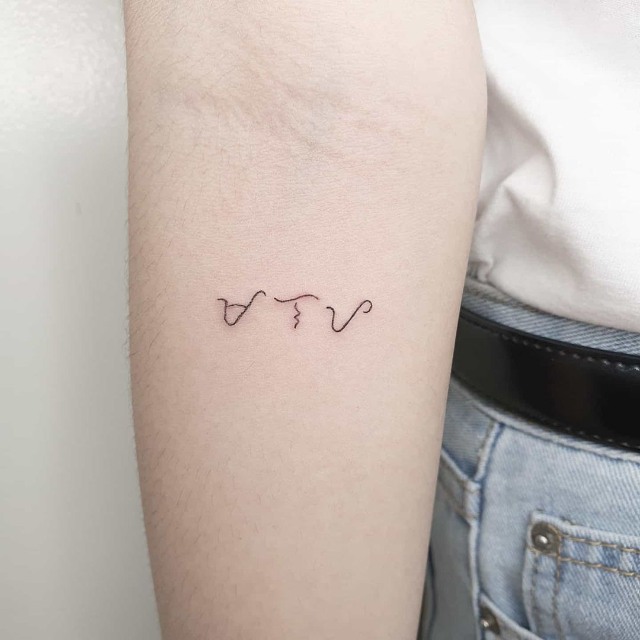 2.
Dalisay
Dalisay is a Filipino word that converts to being true and frank. As a tattoo, it could be a subtle way to tell yourself to always be true to who you are and speak your mind.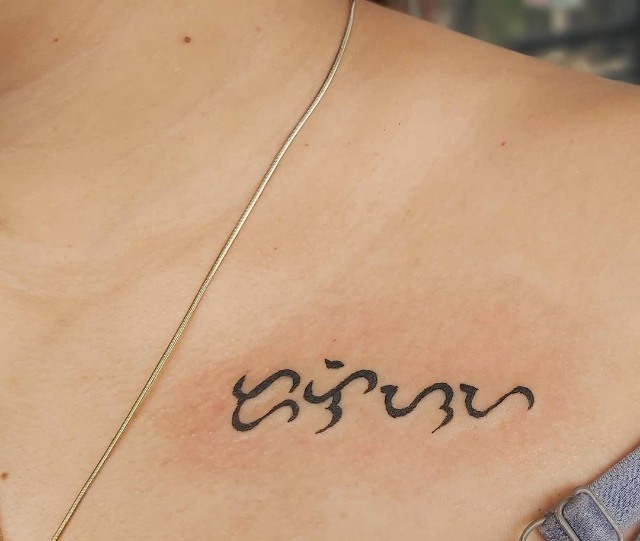 3.
Ate
Being the oldest sister in a Filipino household is a responsibility. It can entail pressure, but it can also be incredibly rewarding. If you want honor this part of yourself, get an ate tattoo inscribed in Baybayin in a discreet place like behind the ear. It can be like a salute to your ever-important role and the challenges you've had to face.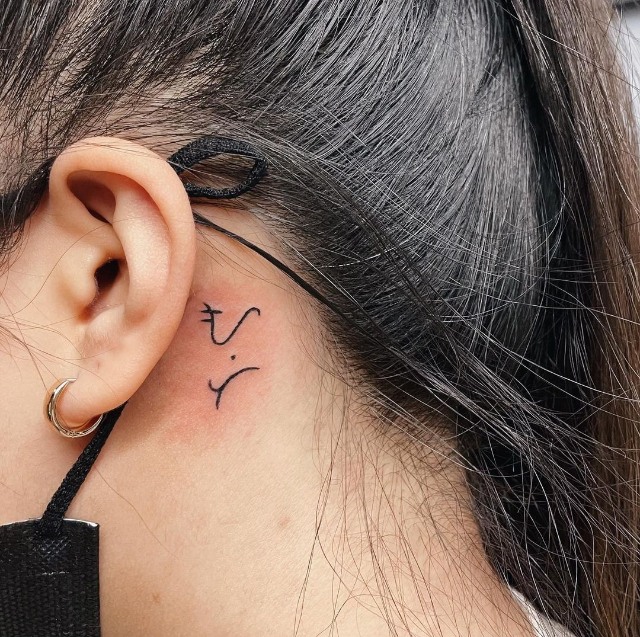 ADVERTISEMENT - CONTINUE READING BELOW
4.
Padayon
In this world full of challenges, moving forward is always the best option. This Baybayin tattoo depicts the Filipino word padayon which means to continue or keep going. It is also joined by ancient motifs that give the script a deeper meaning: there are stars to light the way, an arrow for direction, and a compass for constant guidance.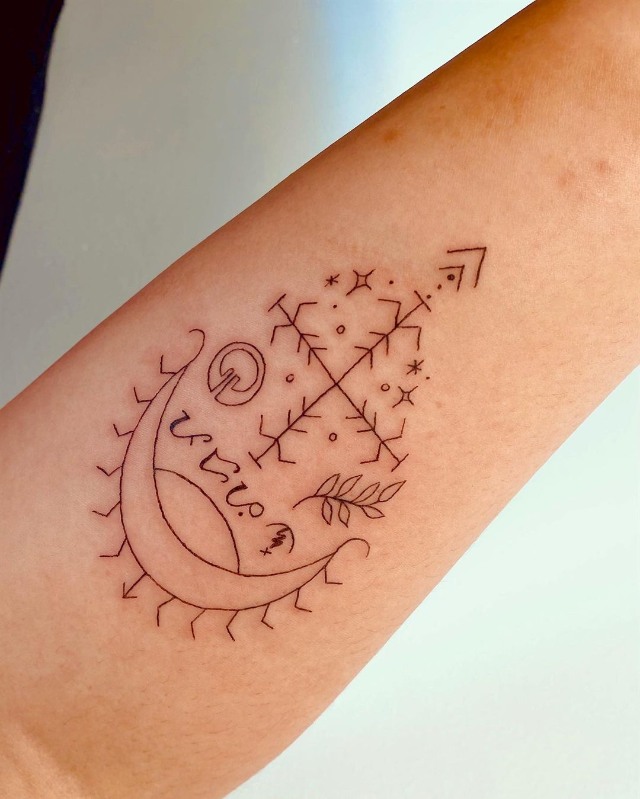 ADVERTISEMENT - CONTINUE READING BELOW
5.
Hakuna Matata
It may not be a Filipino term, but it holds a powerful meaning that all of us need to hear from time to time. Hakuna matata means no trouble, no worries, and to take it easy. To add some flair to the ink, trying going for a gradient effect like the design below.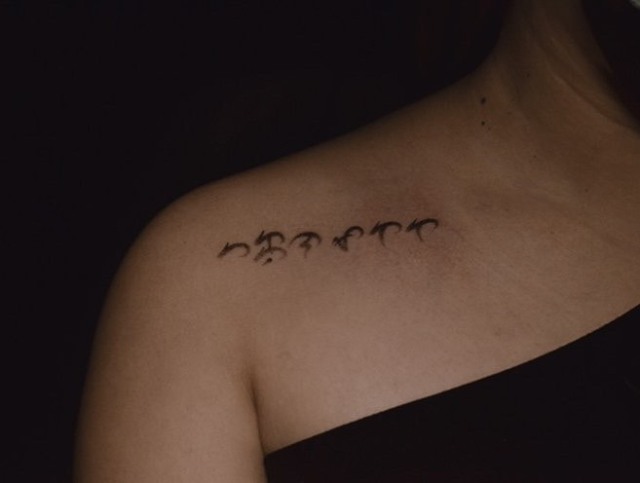 ADVERTISEMENT - CONTINUE READING BELOW
6.
Matibay
The word matibay in our language is representative of not faltering even in the harshest conditions. It's a truly Filipino trait one can be proud of. You can place its Baybayin equivalent of it on your collarbone as a visible sign of strength, or even your arm for a more literal placement.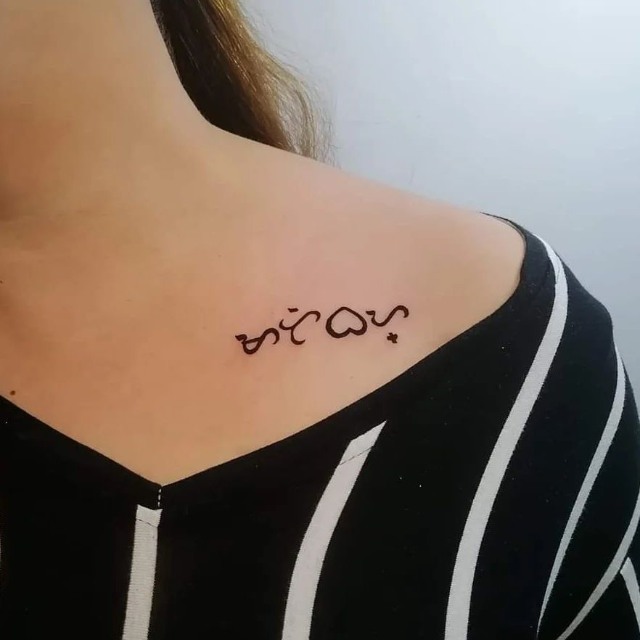 ADVERTISEMENT - CONTINUE READING BELOW
7.
Pangako
The tattoo below features the bird of paradise flower, Kalinga dots that represent life, and a Baybayin inscription that reads pangako or promise in English. It's one way to combine different symbols to flaunt your heritage and mark the Philippines as a place of comfort, happiness, and solace that you will always return to.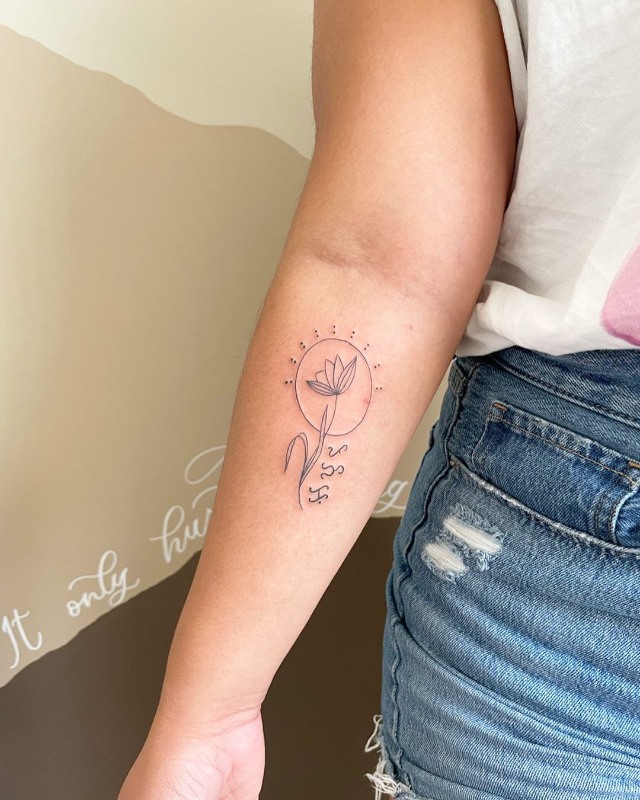 ADVERTISEMENT - CONTINUE READING BELOW
8.
Initials

If you have someone special that you want to honor, why not tattoo their initials in Baybayin and fuse it with a flower that best represents them? Get inspo from the design below, which seamlessly connects the initials "AA" with a tiger lily flower. ICYDK, the striking yellow petals of the tiger lily exudes confidence and symbolizes compassion.
ADVERTISEMENT - CONTINUE READING BELOW
9.
Kalayaan
Another beautiful Filipino word that represents freedom and liberty is kalayaan. The photo of the Baybayin tattoo below is accompanied by a Kalinga compass motif to give the word a weightier meaning. It's a solid reminder that if you are a free-spirited individual, and you should not allow yourself to get lost into darkness.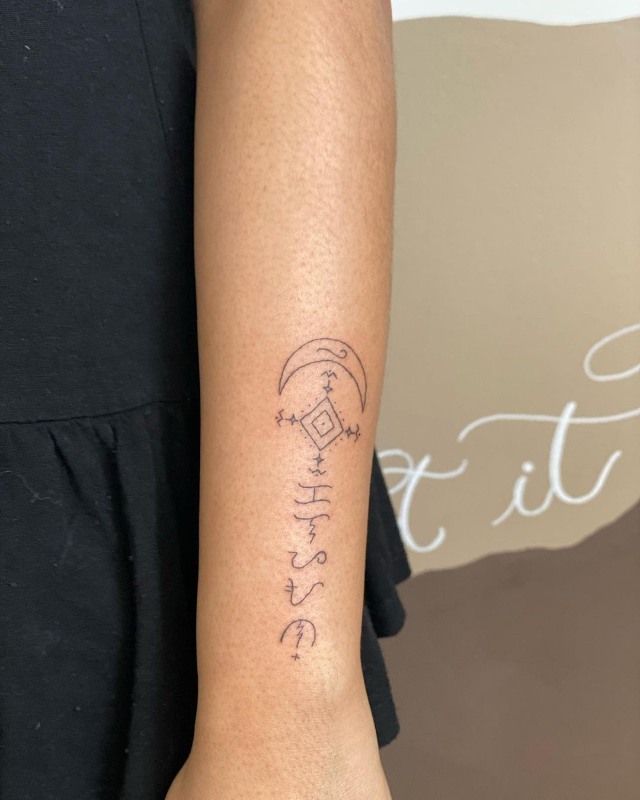 ADVERTISEMENT - CONTINUE READING BELOW
10.
Matatag, Padayon, at Tiwala

Can't choose only one word to ink? Have them tattooed all together down your spine. In the example below, the script presents the words matatag, which means to be strong and steadfast, padayon, which connotes to moving forward, and tiwala meaning trust. Don't forget to separate the words with a symbol of your choice!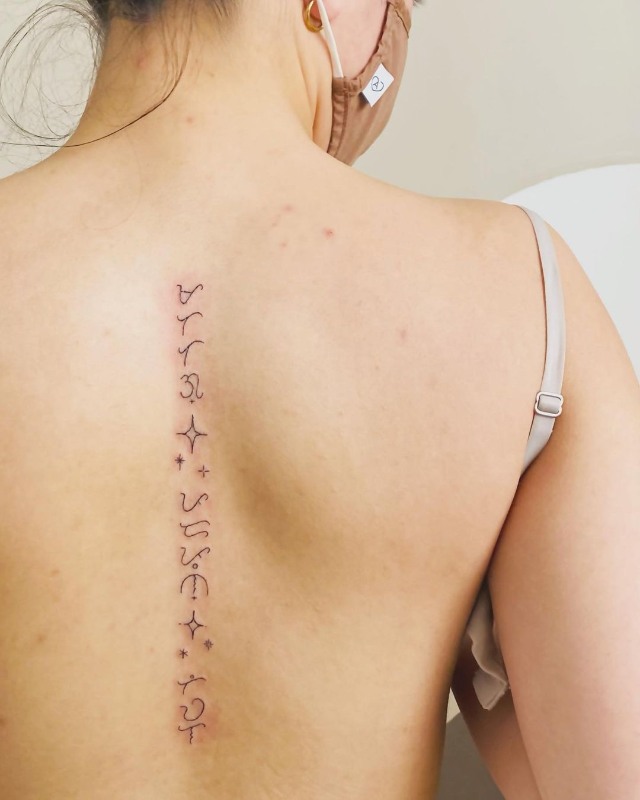 ADVERTISEMENT - CONTINUE READING BELOW
Related Stories from Preview.ph
Hey, Preview readers! Follow us on Facebook, Instagram, YouTube, Tiktok, and Twitter to stay up to speed on all things trendy and creative. We'll curate the most stylish feed for you!