Anne Curtis is well-known as an actress, host, singer and all-around entertainer, but these days, she's also putting in some time as an entrepreneur. The thirtysomething launched her own beauty line called blk Cosmetics with business partner Jacqe Yuengtian-Gutierrez last September, and based on initial feedback and sales, they're off to a terrific start.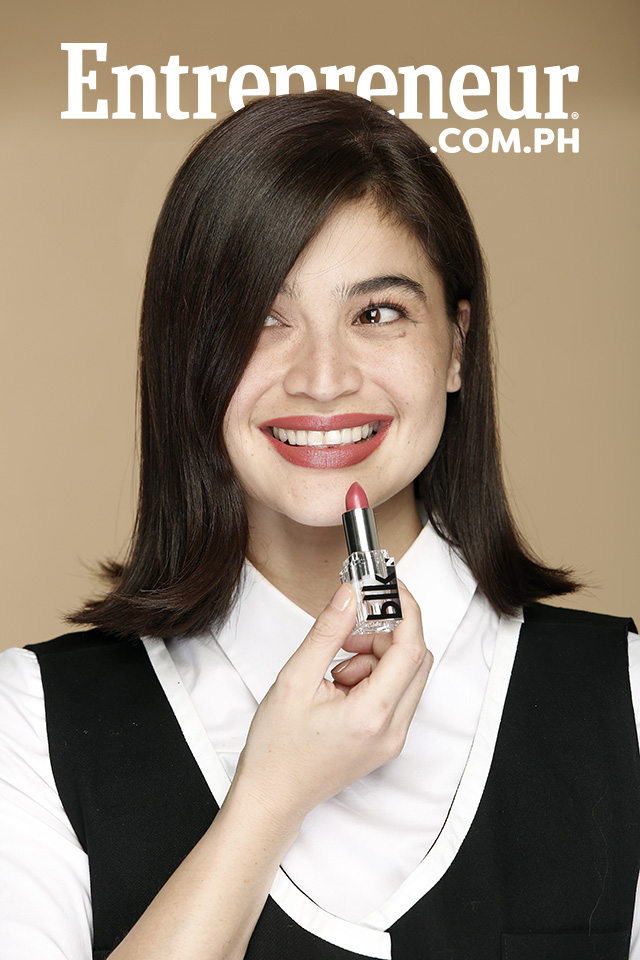 ADVERTISEMENT - CONTINUE READING BELOW
"We're actually hitting maybe eight times our forecast," Jacqe says. "So it's doing very, very well. When Watsons asked me to give them a forecast, they were asking for millions and millions (of stock). And I was like, no, that's impossible, how can a kiosk sell that much? And then lo and behold, their forecast is actually correct. Kami pala yung mali."
CONTINUE READING BELOW
Recommended Videos
The product line of blk Cosmetics—named after the color black, which Anne says stands for timelessness, elegance and simplicity—is composed of lipsticks, foundations, contour, blush and highlight palettes, eyeliners, brow and pencil duo, and others. It's a range of "absolute essentials" to achieve the brand's tagline of "uncomplicated beauty."
At the time of Entrepreneur Philippines' interview with Anne and Jacqe less than a month after blk was launched, both were ecstatic about the brisk sales of their liquid lipstick and contour palette lines.
ADVERTISEMENT - CONTINUE READING BELOW
"When looking for a supplier, we didn't look at the price, we looked at the quality," Jacqe says. "When we were happy with that, we negotiated. We took a risk. We believe so much in the product, we knew it would sell well. People will repeat and buy your product if it's good."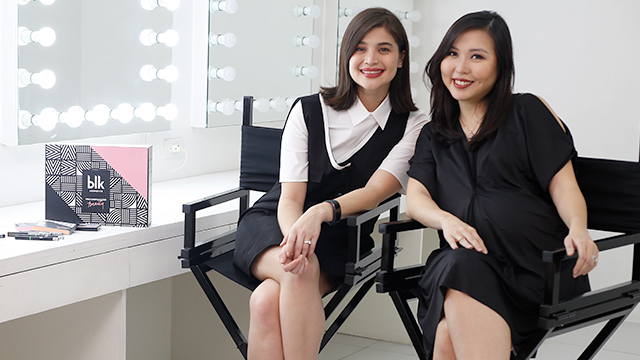 ADVERTISEMENT - CONTINUE READING BELOW
Anne Curtis with her blk Cosmetics business partner Jacqe Yuengtian-Gutierrez
The story of blk Cosmetics began with Anne herself. Although the It's Showtime host has some experience in business, having been an investor in tech firm Xurpas' mobile gaming subsidiary Xeleb since 2015, she confesses to harboring dreams of starting her own business as far back as she can remember.
"It's always been my biggest dream (to have my own business), particularly for makeup, but I could never do it by myself," she says. "I've always been afraid and scared. That's why I think I was very blessed to meet the right people who know the business already."
Jacqe is a former regional manager for Unilever and co-founder of cosmetics firm Happy Skin with Rissa Mananquil-Trillo. She and Anne met through common friends Erickson and Roxanne Farillas, founders of fashion brand Plains & Prints, which Anne endorses.
"They knew about Anne wanting to go into business," Jacqe says. "And then Roxanne and Erickson told me, 'What if we do makeup with Anne? Kasi Anne really wants to do that as well.'"
ADVERTISEMENT - CONTINUE READING BELOW
Early this year, they met at a restaurant to get acquainted and talk about their ideas about the venture. It was then that they discovered that their goals and vision for the makeup line were exactly aligned.
"Everything fell into place because it was about simplicity," Jacqe says "Beauty that's simple, not complicated. And that's exactly the brand that I also envisioned. Anne was also exactly like that. She's that way. When you see her, she's uncomplicated beauty. Feeling ko, the proposition of the brand truly exemplifies who Anne is. And that is exactly also what the market would like."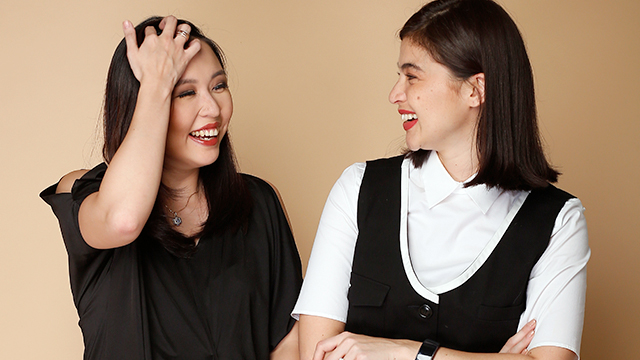 ADVERTISEMENT - CONTINUE READING BELOW
Jacqe says Anne was extremely hands-on during the entire process of creating blk Cosmetics
After they formed the company, things started happening at a breakneck pace. It helped that, because Anne had been dreaming of the project for years, she already had ideas about everything from how the products would look like, what shades she wanted for the lipstick and foundation, to what products she initially wanted to come out with.
"Anne is really super hands-on," Jacqe says. "You can imagine what her schedule is like, but even then, she always finds time to answer me. If I need something, like I'll tell her we need to finalize the product range, I get the proper answers immediately. And she even gave feedback because it's important for Anne to try out all the products. Siya yung expert. She needs to use it every single day because this is going to be her brand. Even the feedback on the shades, what we need to do to make it more red, make it more pink, make it more moisturizing, et cetera. All of those things are given to me efficiently. And that helped."
ADVERTISEMENT - CONTINUE READING BELOW
"It got to the point where I felt like I was being super kulit already," Anne says with a laugh.
Because blk's thrust was "simple, uncomplicated beauty," it was important for Anne and Jacqe to be able to offer their products at an affordable price without sacrificing quality. They searched high and low for a good supplier that would be able to offer both and found one in Taiwan. Nothing in blk's product line costs over Php499.
Jacqe explains that the reason they are able to price blk's products so reasonably is because of volume.
"We actually ordered a year's worth of stock," she says. "And, I'm not even joking, almost all of the liquid lipstick and half of the matte are out of stock."
"That's why we had to reorder," Anne adds. "I was freaking out. But that's a good problem to have. We'll see how Christmas goes."
ADVERTISEMENT - CONTINUE READING BELOW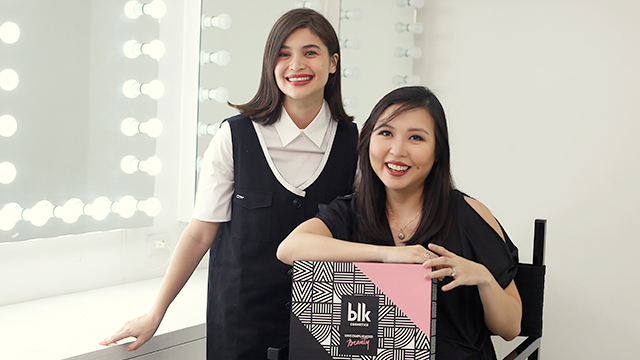 Anne and Jacqe say they had similar ideas about the make-up line, which led to an easy working relationship
It also helped that Anne and Jacqe were able to get Watsons as their main retail channel to distribute blk Cosmetics. The duo couldn't emphasize enough how important it was for them to be able to partner with the SM-affiliated drugstore and convenience store chain.
ADVERTISEMENT - CONTINUE READING BELOW
"Watsons owns 60 to 70 per cent of the beauty category (in the country), so if you want to be big in beauty, you have to be in Watsons," Gutierrez says. "Anne met up with the bosses of Watsons. Siya nag-present."
And as the initial sales report shows, the strategy seems to be paying off. Jacqe says they initially planned to have just 15 stores carrying blk Cosmetics this year, but strong demand is pushing up that target to 35 to 40 stores by the end of 2017.
In addition, the products are also available online through the blk website as well as through Zalora. Jacqe says they heard from officials of the e-commerce site that blk was in the top five most popular products on the site throughout all the categories.
"The right infrastructure has to be there," Jacqe says "You have to get the products to the customers. So online to retail channels, you make sure that it's covered. Para when Anne talks about it, hindi ka frustrated, na hindi naman mabili. You get them to buy immediately."
ADVERTISEMENT - CONTINUE READING BELOW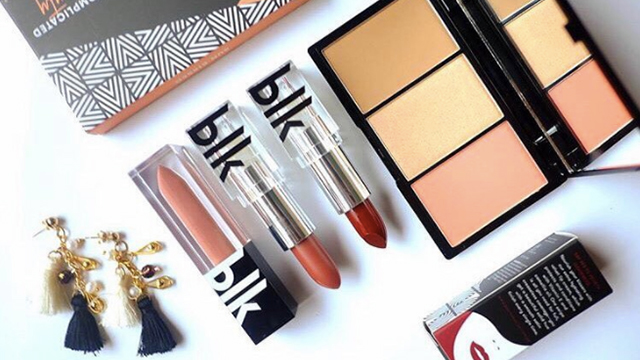 The blk product line includes lipsticks, foundations, contour, blush and highlight palettes, eyeliners, brow and pencil duo, and others
Supported by a legion of local beauty bloggers and influencers, most of whom have had nothing but good words to say about the product, blk Cosmetics is on its way to achieving a status unlike any other in the country today—a successful beauty brand not just endorsed but actually owned by a celebrity. More products are in store for fans who are snapping up the lipsticks and eyeliners from store shelves, but ask Anne what her dream is for her new "baby" and she has a ready answer.
ADVERTISEMENT - CONTINUE READING BELOW
"Go international?" she says laughing. "To be in Sephora?" Sephora is an upmarket beauty retail chain that offers makeup, perfumes, skincare and other beauty products.
"Our goal is every Filipina should own a blk," Jacqe adds.
This story originally appeared on Entrepreneur.com.ph. Minor edits have been made by the Preview.ph editors.
Related Stories from Preview.ph