After the long wait, CloseUp Forever Summer finally announces its lineup for the upcoming EDM music festival this summer and it includes Alesso, Helena, and Deniz Koyu, along with local DJs like Mars Miranda, Ace Ramos, Marc Naval, and Martin Pulgar.
CloseUp Forever Summer will be held in Circuit Events Ground on April 5, so be sure to mark this on your calendar and gear up for one of the best parties this summer!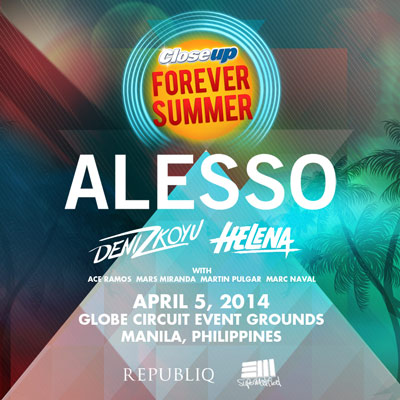 ADVERTISEMENT - CONTINUE READING BELOW
To prep, yes, this early, listen to a few of their popular songs below. We're so excited, we couldn't contain it!
"City of Dreams" – Alesso feat. Ruben Haze
"If I Lose Myself " – Alesso vs. One Republic
"Girl From The Sky" – Helena feat. Mr. Wilson
"Breathe"— Helena
"Ruby"—Deniz Koyu
"Bong"— Denis Koyu