The makeup gods might have heard us: One of the world's most renowned designers, Alber Elbaz, has teamed up with beauty brand giant Lancôme to produce a capsule makeup collection. The creative mind behind the fashion house Lanvin is famous for his quirky illustrations and we totally set our expectations to own a piece from Lancôme Show by Alber Elbaz. Ever since we heard of the news , we have been on our toes until June 22nd comes to get our hands on the best-selling mascaras and eye palettes.
Lancôme Philippines has graciously shared with Style Bible maestro Alber Elbaz's story on how he redressed the brand's iconic mascaras and eye palettes. He also sheds light on his passion for design and the true essence of being an artist.
The story you imagined for Lancôme is a fashion show where you see nothing but the eyes of the audience.
ADVERTISEMENT - CONTINUE READING BELOW
It represents my experience. I spend my time backstage at the Lanvin shows and when I come out at the end, all I see are people's eyes. But they are friendly eyes, not intimidating. Obviously you always have that fear of judgement after a show, particularly today in our world made of images, where clothes are judged on how photogenic they are on a flat screen instead of being seen worn. But my work is for women, not judges, and I work with women too. When I joined Lanvin I decided only to do what I love, both with and for the people I love.
Tell us the story of this imaginary fashion show…
It all stems from the incredibly rounded and curvaceous mascara bottles; the moment I saw them I thought of women's bodies. There's something of Cinderella and her magical carriage in this idea of fairy-tale metamorphosis. The transition from the real to the surreal of course echoes makeup itself, and sparks the imagination. So I came to this idea of a fashion show where all you see are eyes in the front row, and the women gradually transform into bottles, with a bride wearing a dress covered in eyes and roses at the end. At the end of the show, a moment of pure extravagance, I peek out from behind the curtains. The idea is to make people see what was already there in a new way. The whole project represents a dialogue with Lancôme. I took existing products which fulfilled a need and transformed them into objects of desire. It's the job of marketing to fulfil needs. My job is to create desire by inspiring the dream behind the product.
CONTINUE READING BELOW
Recommended Videos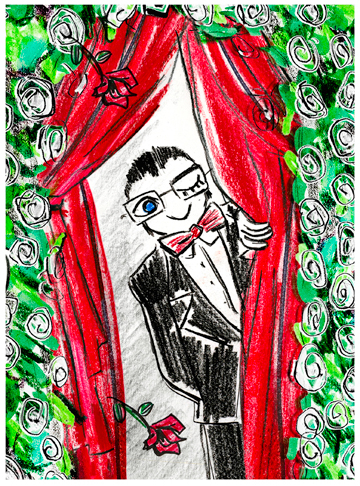 Colors seem to be very important in the film too?
Yes, of course. We put a lot of work into the colors and changed them several times. When I started out in this profession I used to feel bad about always changing my mind, but then I realised that change can be good: Indecisiveness is part of a process of building things up step by step. Then, eventually everything falls into place and you can stand there like a painter before his canvas and say that there's nothing left to be changed. We finally found our colours—red, pink, blue, and green—and used them on the motifs as well as the ribbons and boxes, again creating a kind of tension between tradition and modernity. But the key thread running through it all would have to be eyes. And curves—the bottles are just so curvaceous. We're living in a square world and I wanted to create some curves!
ADVERTISEMENT - CONTINUE READING BELOW
Do you always get so involved in your work?
First off, I don't accept many projects. But every so often I do to escape from my work as a designer and to breathe in new inspiration. When I do take on a project, it's because I truly want to do it, so of course I am very committed. I'm not the kind of person who works in the living room in a rather half-hearted way. Figuratively speaking, the room I choose to work in is the kitchen, sitting comfortably at a table in the warm, because the kitchen is where the heat of a home is felt. Once I've settled in, I like to get to work. I like to be active, do things. I'm not interested in just putting my name to a product. I like to work on a project completely, from start to finish. And I like to have the freedom to be creative and make mistakes. All of the greatest inventions come about by accident, or through coincidence…
ADVERTISEMENT - CONTINUE READING BELOW
Is makeup a very important part of your shows?
Every part of a show is important. That's a bit like asking a mother which is her favorite child! The light, the music, the reception, what you serve people arriving after a month of shows all over the world… And then the spectacle begins. By its end, what remains is the strength you have imparted to women. Not power—you can buy that. Strength is something more intimate, you can't fake it. When you tell someone you love them, you are giving them strength.
Do you brief the makeup artists personally?
I work with people; I don't brief them. Again it's that idea of working in the kitchen, around a table, preferably a round one… We think about the makeup ahead of time but it's really once you get backstage and see the finished garments that you see what needs to be done. You have to find a solution to each question asked by each piece.
ADVERTISEMENT - CONTINUE READING BELOW
How did you come to the idea of creating false lashes for Lancôme?
False lashes are the must-have fashion accessory of the moment. It was Youcef's idea and it struck me as absolutely perfect. It fitted with the story very naturally, like an extra flick of the pencil…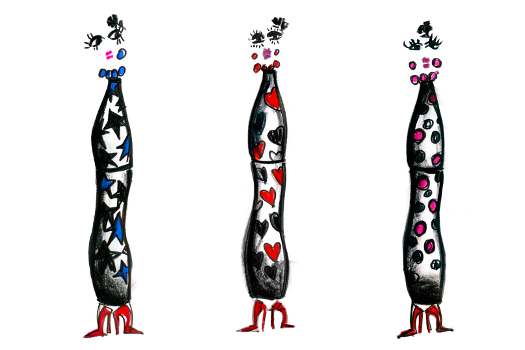 ADVERTISEMENT - CONTINUE READING BELOW
The film you created will only be shown online from June. Are you a digital addict?
Not in the slightest! It took me six months to learn to use an iPad and I don't even have an email address. I don't miss it either; I feel freer without. I still think that computers are incredibly useful and make things possible. The people around me can instantly tell me whether something is feasible or not. But the fact that I'm not able to work these things out alone means that they always have a slight air of mystery about them, which gives me the freedom to dream and reflect. I want to keep that hint of mystery. Today, people want to know everything, see everything, control everything. We need to keep some space for dream and mystery.
You are Israeli, American, and part of the French fashion landscape. Do you consider yourself multi-cultural?
ADVERTISEMENT - CONTINUE READING BELOW
I don't see myself as a global citizen. At the moment I am living in France and so I'm French. I believe that, beyond languages and countries, each and every person I meet brings me something. There's nothing to be gained from living in a bubble. You need to discover new places, people and things. Designers have to be voyeurs, not exhibitionists. It's our job to watch, assimilate and reflect. A person is defined by what they have seen, and what they can give back.
Could you practice another profession?
This is the only thing I know how to do, and I've been doing it since I was 4. I started out drawing and then moved onto making little dolls out of cotton, chewing gum, and my father's cigarette papers. There was one time, when I left Saint Laurent in fact, that I wanted to leave the world of fashion. As a child I wanted to be a doctor, the kind of family doctor that devotes his life to people. But then I realised this is the only thing I'm any good at. I don't know how to drive or mend anything at all. The only thing I know is design.
ADVERTISEMENT - CONTINUE READING BELOW
What do you want people to say about your collection for Lancôme?
That it's hysterical—in a good way!
Click on our gallery for a glimpse of the limited-edition collection (It will only be available for a month!).
Hey, Preview readers! Follow us on Facebook, Instagram, YouTube, Tiktok, and Twitter to stay up to speed on all things trendy and creative. We'll curate the most stylish feed for you!
ADVERTISEMENT - CONTINUE READING BELOW
CONTINUE READING BELOW
Recommended Videos
Hey, Preview readers! Follow us on Facebook, Instagram, YouTube, Tiktok, and Twitter to stay up to speed on all things trendy and creative. We'll curate the most stylish feed for you!