Growing up, our moms, aunts, grandmothers and even our grade school teachers would school us on many beauty dos and don'ts; but some of these granny tales are not necessarily factual. Here, we break down seven beauty myths we all fall for, and why you should cross it out from your regimen, stat!.
SKINCARE
TOOTHPASTE HEALS ZITS.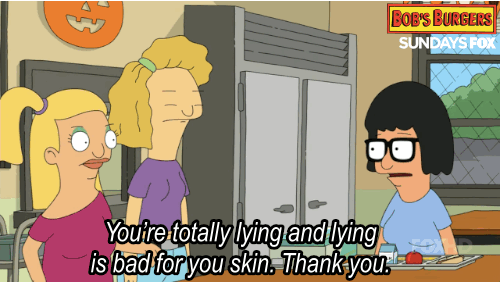 ADVERTISEMENT - CONTINUE READING BELOW
Before reaching for that tube of toothpaste each time you break a big pimple, contemplate: is it true? Is your best bet for white teeth as potent as a last-minute hot date saver? The answer is no. In fact, it might do your zit more harm than good. Most toothpaste variants contain Sodium Flouride and Triclosan—antibacterial and antimicrobial agents that irritate the skin. Yelp.
Expert Suggestion: Renowned dermatologist (and Preview Best-Dressed girl) Dr. Aivee Aguilar-Teo recommends using a cleanser tailored for acne-prone or oily skin.
NO SUN? NO SUNSCREEN!
CONTINUE READING BELOW
Recommended Videos
Think you can take a cheat day from wearing SPF when it's raining or cloudy? Did Baz Lhurman not teach you anything? He said it before and we'll say it again: ALWAYS wear sunscreen. Whether the sky is overcast or you're wading your way to work on a storm signal-level downpour, SPF is still mandatory as long as you can see during daytime. It means that the sun's rays are still present.
Expert Suggestion: Dr. Aivee insists we wear SPF even indoors. Fluorescent light, as well as light shining from your computer affects the skin too, when exposed for a long period of time.
MAKEUP
FILL UP AN EMPTY MASCARA WAND BY PUMPING THE BOTTLE
ADVERTISEMENT - CONTINUE READING BELOW
Dry mascara sucks, especially when you're going for fluffy lashes (Note: Preview's beauty gal Belle Rodolfo is a big fan). If you're starting to think you're spending money on mascara that dries out quickly, think: "How do I fill up my mascara wand?" If you pump your mascara inside the bottle to get product, then you're most probably at fault. Pumping the mascara wand into the tube pushes in air, drying out the product. Remember, you need wet mascara to avoid clumping.
Expert Suggestion: A Jed-Root represented make-up artist, Shu Uemura's Omar Ermita says you should your swirl your wand inside the bottle, instead of pumping.
APPLY CONCEALER LIKE MOISTURIZER: RUB TO BLEND.
ADVERTISEMENT - CONTINUE READING BELOW
We'll take a guess: there's a small tub of half-finished and just-opened concealer tubes gathering dust on your vanity, which you've amassed because you think they don't conceal your spots properly. Are you sure? Maybe you're just applying concealer wrong. It's simple: don't rub, just tap to blend. Rubbing causes the concealer to move, thus revealing the very skin part you want to conceal.
Expert Suggestion: Omar stresses: dab and tap, especially under the eye area. Rubbing causes wrinkles, and wrinkles are harder to conceal.
CONCEALER SHOULD BE LIGHTER THAN YOUR FOUNDATION.
ADVERTISEMENT - CONTINUE READING BELOW
We feel this myth was lost in translation over time, because the currently perpetuating belief is not so far from the truth—and yet the slight error makes all the difference. Concealer shouldn't be lighter than your foundation, it should be lighter than the skin tone you want to conceal. To be sure, pick a concealer that matches your foundation.
Expert Suggestion: "You wouldn't want to attract more attention to what you're trying to cover with concealer by highlighting it with a lighter shade than your foundation," Omar explains.
FITNESS
YOU CAN EAT ALL YOU WANT 36 HOURS AFTER A WORKOUT.
ADVERTISEMENT - CONTINUE READING BELOW
It baffles us how some people can confidently walk out of the gym only to waltz straight into the arms of the fast-food chain across the street. Without showering. If you believe you can eat everything you want after a workout just because you're burning fats more, think again. While the right amount of carbs and protein is crucial to regain your energy and help muscles recover, the body can only burn so much. Any more food your body can't burn will still turn into fat.
Expert Suggestion: Strength and conditioning coach to the stars Coach John Aquino says skip the bingeing and stick to the right amount of food.
TO GET THIN, CARDIO WILL DO. THERE'S NO NEED FOR WEIGHTS.
ADVERTISEMENT - CONTINUE READING BELOW
Your idea of an intense workout session is three hours on the bicycle, scrolling through Instagram, and when the weights come calling, you fake a deadline and rush out of the gym. If you can relate, ask yourself this: what did weights ever do to you? The amount of fats you burn in a cardio session depend only on its intensity and duration; thus, you only burn as you workout. With weight training, you burn fats even hours after the exercise, as well as develop muscle. What's not to like?
Expert Suggestion: Coach John still suggests that you don't enter the gym blindly. Consult on which diet and exercise fits best for your fitness goal and help condition.
Hey, Preview readers! Follow us on Facebook, Instagram, YouTube, Tiktok, and Twitter to stay up to speed on all things trendy and creative. We'll curate the most stylish feed for you!