It's no secret that the gospel of essential oils has been making its rounds on the internet. After all, there's no better healer than Mother Nature herself. And if it's a chemical-free way to better skin you're looking for, then this is it.
During a weekend getaway with V&M Naturals, we learned all about essential oils and how to use them topically. All you need to remember are these two rules:
1. Always dilute your essential oil in a carrier oil. Even just a single drop could be very potent, so try 3-4 drops of essential oil in 30mL carrier oil to start and adjust the recipe according to how your skin reacts.
2. Always patch test your concoction before placing it on your face. Let's face it, reactions are always bound to occur when trying out new products. Try a little bit on the inside of your elbow or along your jawline and wait 24 hours for any adverse reactions.
Happy mixing!
Acne Treatment
Tea tree oil's anti-bacterial properties help treat your pimple while chamomile helps soothe the affected pores.
Recipe:
- 3 drops of Chamomile
- 4 drops of Tea Tree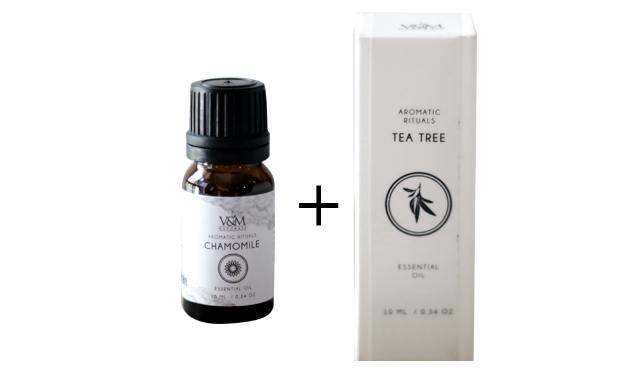 IMAGE V&M Naturals
V&M NATURALS Chamomile Essential Oil, P790; Tea Tree Oil, P295, both from VNMNaturals.com
Anti-aging and Brightening
Considered the king of essential oils, frankincense helps detoxify the skin and works at reducing acne scars. Combine that with tsubaki and marula oil for a boost of anti-oxidants, add in argan oil for extra moisture, and rosehip oil to help diminish pigmentation on the skin.
Recipe:
- 15ml Tsubaki Oil
- 15ml Rosehip Oil
- 15ml Marula Oil
- 15ml Argan Oil
- 3 to 6 drops of Frankincense
IMAGE V&M Naturals
V&M NATURALS Argan Oil, P728; Francincense Essential Oil, P1560; Marula Oil, P878; Rosehip Oil, P878; Tsubaki Oil, P728, all from VNMNaturals.com
Astringent Tonic
ADVERTISEMENT - CONTINUE READING BELOW
Witch hazel works at clarifying the skin and balancing oil production, while cucumber and aloe refresh the skin and helps soothe irritations. Add in a little lemongrass to tone the skin and some orange oil to keep acne at bay and you've got a potent acne-fighting tonic.
Recipe:
- 30ml Witch Hazel Toner
- 90ml Cucumber Aloe Toner
- 1 drop of Lemongrass Essential Oil
- 1 drop Orange Oil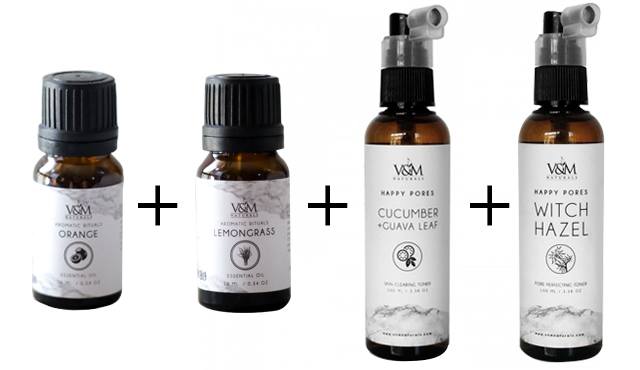 IMAGE V&M Naturals
V&M NATURALS Orange Oil, P250; Lemongrass Essential Oil, P790; Cucumber Toner + Guava Leaf, P252; Witch Hazel Toner, P252, all from VNMNaturals.com
Night Care Oil (for Normal to Dry skin)
The calming scent of ylang-ylang drives away stress at the end of the day, while chamomile helps slow down aging. Finally, rosehip oil helps nourish the skin and promotes cell renewal while you sleep.
Recipe:
- 30ml Rosehip Oil
- 3 drops Ylang-Ylang
- 3 drops Chamomile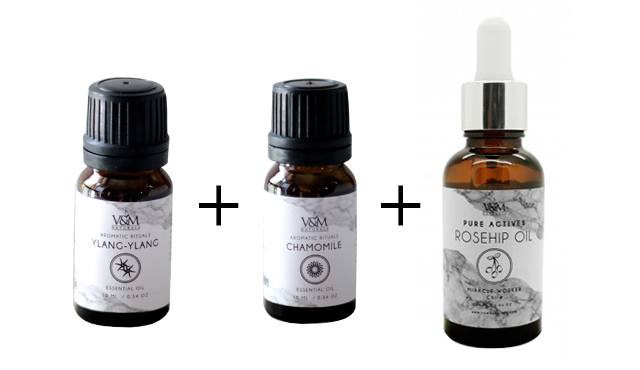 IMAGE V&M Naturals
V&M NATURALS Ylang-ylang Essential Oil, P550; Chamomile Essential Oil, P790; Rosehip Oil, P878, all from VNMNaturals.com